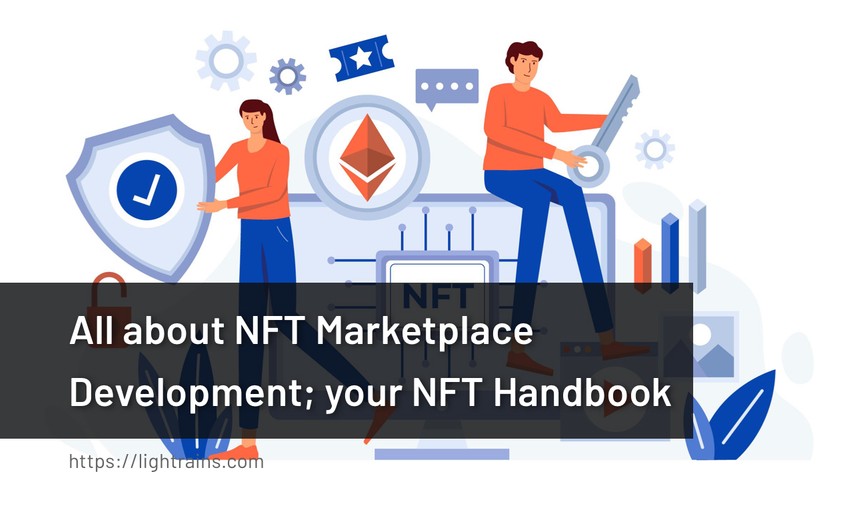 We've been talking about NFTs for over a couple of years now, as they're in trend. We will be talking more about NFTs in the present and future as well. In the crypto-sphere, it is the latest drift that is taking place. As an effect of this movement, many artists and entrepreneurs can now trade their art (like music pieces, digital artwork, games, real estate entities, etc), at any price they decide to apply. Not only them but also you and I, can create an NFT and trade them over the NFT marketplace. Let's try to understand a little about the NFT marketplace to take into insight, how does NFT exchange comes to play. Make sure you don't miss out on our #1 picked consultant for NFT marketplace development.
A Look at NFTs: What they are? How are they unique? What is their composition?
Before we dive into understanding the NFT marketplace, let's revise a little about NFTs. NFTs stand for "Non-fungible Tokens". To elaborate, they are a sort of "cryptographic assets" that are built over blockchain technology. They have unique identification codes and meta-data which is why they get the title to be very 'distinct'. Any asset that can be converted into a digital form (a music piece, an artwork, any meme or tweet, and so on)., can be an NFT. A single NFT can have only one owner at any given instant of time, wherein the ownership can be verified by the "exclusive codes" contained within the NFT. For individuals who want to invest in NFTs, we've got a space wherein one can trade NFTs or can even acquire new ones. These so-called 'spaces' are what we refer to as an NFT marketplace.
Want to know more about NFTs but have no time? Check out our article What is an NFT
NFT Marketplace: An Emporium of NFTs
In very clean words, a marketplace or market area that is dedicated to the buying and selling of NFTS is known as an NFT marketplace. They are decentralized platforms that essentially store digital assets (or NFTs). Herein, you can find NFTs that are being displayed, stored, traded, auctioned, and in certain scenarios, can even be minted (or created). Each NFT marketplace has specific features and its way of operation, which determine the overall attribute of that particular marketplace.
A few good examples of NFT marketplace include OpenSea, Nifty Gateway, Rarible, Mintable, and Theta Drop.
NFT Market Development: How is the NFT marketplace developed?
To put it simply, one can either develop an NFT marketplace either from scratch or, a better alternative could be to put 'White Label NFT Marketplace' to use. In basic terms, developing an NFT marketplace from scratch would require a lot of coding and programming. In the case of 'White Label', a pre-built application is present for NFT marketplace development.
NFT market development from scratch is mostly for industrialists who want to launch their business in the crypto atmosphere. The entire process could be quite time-consuming and can cost an arm and leg. The bright side is that NFT marketplace development via this procedure will make your marketplace, very distinct and unique, in terms of features, mode of operation et al, in the crypto sphere.
White Label NFT development is generally for entrepreneurs who are still new in the crypto market, as well as in business. This kind of marketplace is entirely customizable, is time-efficient, and is also cost-effective. You can add in or subtract the features required, or perform settings as per your necessity.
Coming on to creating an NFT marketplace from scratch, we've got a bunch of steps involved in NFT marketplace development.
Selecting the Blockchain: Decide and determine the blockchain network you need to build up your NFT marketplace. Commonly used networks are – Ethereum, Solana, Cardano, Polygon, etc.
UI/UX Development: The next step is to create a user-friendly and appealing user interface, as it is going to be the first impression of your NFT marketplace. It can be simple, optimized, and easy to use, so that you can attract more users, to your NFT market.
Smart Contracts: This step is very essential since the entire decentralized platform is constructed on the grounds of smart contracts. By implementing smart contracts, all operations would be carried out in your NFT marketplace, from listing to the transaction.
Storage: As you're opening up an NFT marketplace, that would contain a lot of NFT items, so you'll require storage for the same. NFTs would be listed on the marketplace after minting, and need to be stored. The meta-data associated with the NFTs would be stored outside the blockchain since data storage in the blockchain is very expensive. Thereby, one can store data by using an InterPlanetary File Systems (IPFS), which is "a peer-to-peer network" for collecting and allocating data in a "distributed file system." The other details linked with the user and NFT can be stored in a database.
Integration: Herein, the front-end and back-end interfaces are developed to interact with smart contracts on the deployed server.
Beta Testing: This is a crucial step in NFT marketplace development, wherein the developer tests the platform for any bugs or errors, and fixes them if found. In this phase, the entire marketplace is tested and examined, before final deployment.
Live Deployment: The final step is to deploy the marketplace in the global production space after it has cleared all trials and testing.
These steps are for marketplaces that are to begin from scratch. Nevertheless, one can also put to use a 'White Label' NFT marketplace, as discussed earlier. Want to know how would your NFT marketplace could be developed? View our #1 NFT Development Company to know more.
NFT App and Trading Platform: What are the solutions that offer NFT release?
So now, I'm interested in NFTs and want to buy, create or sell them. What are the options available to me? For this, one can resolve to online NFT apps and trading platforms that let you trade, sell, buy, view, or in a few cases, even create your NFT for the former operations. Below is a short detailing of three trading platforms, that you can go to, for your NFT analysis and understanding.
NFT Launchpad (2022) The front-runner on our list is NFT Launchpad. Herein, you can buy, sell, trade, and create NFTs, in a very flexible and convenient manner. It's safe to use and provides a vast assemblage of NFTs hosted on Binance Smart Chain (BSC) and Polygon blockchains, which were integrated into it, in its first phase of launch. You can use the platform, over your smartphone or laptop. The interface it has is very streamlined and user-friendly. No service fees are charged and also the auction bids are available on this NFT marketplace. You can find the 'Lucky Block' NFT collection, along with numerous other abstract pieces. The minting process is as well effortless, and in terms of wallet, NFT LaunchPad has full support for MetaMask.

OpenSea Looking for an NFT marketplace? – How can you forget Open Sea. This platform is the world's leading NFT platform, which is very large, in terms of assets selection, that contains over 80 million NFTs to buy. This leader has all sorts of digital assets available over its platform, and you can easily sign up here, without any registration amount. This platform is built over Ethereum blockchain, Polygon (MATIC), and Klatyn (KLAY). It also offers 241 diverse crypto payment options, including stablecoins; also, it charges a 2.5% fee to the NFT seller. Nevertheless, the app is very clean and easy to use for beginners interested in NFTs.

Nifty Gateway This platform offers exclusive marketplace drops, having limited editions. The app's unique selling proposition (USP) lies in its exclusivity, and its NFTs also contain in it, premium price points. Nifty Gateway is powered by Gemini (a crypto exchange). For US investors, NFTs referred to as "Nifties", can be purchased by credit or debit cards. For other countries, one needs to make their purchase by using a Gemini crypto exchange account.
Apart from them, other notable trading platforms to mention are, Mintable, SuperRare, Larva Labs/CryptoPunks, NBA Top Shot Marketplace, etc. One can compare and see which platform fits the best into the NFT genre that they are interested in.
NFT Companies: Who to consult if you want to develop your NFT Marketplace?
If you get thought that whom you must talk to if you want to set up your own NFT marketplace, then you can visit one of the below-mentioned companies, that can help you to achieve your marketplace goals.
Lightrains Technolabs; NFT Marketplace development company
Lightrains Technolabs, with its qualified developers, is the #1 choice if you want to develop your own NFT marketplace. This company develops NFT Marketplace platforms with multiple security layers comprising all the features required to meet your unique business demands.
So, why Lightrains? What's unique?
To acknowledge a few factors, one can opt for this solution:
Offers clean White Label NFT Marketplace solution
Work on diversified blockchain network: Binance Smart Chain (BSC), Matic, Ethereum, Polkadot and Solana
100% Customizable UI designs
Scalable
Customizable NFT Smart Contracts
Customizable NFT Auction Contracts
Token Uniqueness
BONUS – Lightrains also offers Metaverse services, so if you want to access events in the same, - you can use an NFT
….and a lot more.
This platform also provides you with a free quote for NFT marketplace project consulting.
All you need to do is fill up a basic form, that'll ask for outline details related to your project, your budget, and other underlying data. Pretty easy, right?
NFT Services: Where all is NFT used a service? How can I augment my NFT services?
NFT as a service influx mostly, in the late of 2019s. Since then, there are a lot of sectors wherein you can find NFTs being indulged.
If we talk about the art industry, earlier, there use to be high commission fees deduction during trade made in the auction houses, or otherwise, artists use to rely on galleries for monetizing their artworks. Thanks to NFTs and NFT trading platforms, now artists can sell their arts, by morphing them into digital assets and trading them for the price they want. A report presented by ConsenSys stated that 10% of the global art market sales are held by NFTs accounts. Owning the trading platforms, artists can control their artwork for any kind of sale, transfer, or display, all without the need for any intermediaries.
Other than arts, and digital artwork, gaming is one of the most recognized and celebrated sectors, where NFT is utilized as a service. Herein 'metaverse', 'play-to-earn', and other player-owned virtual spaces are more popular. One such instance of gaming is 'Axie Infinity', which is admired in the Southeast Asian nations of the Philippines and Vietnam. You need to win battles in this game, after which you'll be entitled to earn in-game currency that can later be switched with real money in the open markets.
NFTs are also entrenched in other services like real estate, wherein now you don't need to rely on third parties for ownership transfer or other legal paper works. Music-makers and influencers are also participating in the digital revolution; one such example, wherein 'Eminem' made his mark by releasing Shady Con NFT.
Discussing how NFTs can optimize their latent abilities, we've got a few points to note. Human mediators can be employed to verify user-generated content or deceptive listings, all along the verification process, investing in human mediators can enhance the security barrier. Innovative technologies like to use AI, and advanced verification systems can be put to use, so that robbery or malicious copying of NFTs can be prevented. Other strategies could be to work with field experts, look for policy consultations, and a few to mention.
NFT Minting Platform Development Company: What if I've created an asset and want to mint it into an NFT?
NFT minting refers to the process of making or creating your NFT, after which it can be included in the blockchain network (of your preference). Major NFTs are however created on the Ethereum network.
Few platforms that assist in NFT minting have been discussed earlier as well. More to mention are:
Forge Forge is an NFT Minting platform, preferably for gaming. The platform is very reliable, simple, and comprehensible. It is suited for game NFTS, rather than digital artwork. Currently, it supports three major blockchains: Ethereum, Polygon, and Binance Smart Chain. The process of minting your NFT on this platform is convenient. All you need to do is to fill up a form that'll ask for your basic information, and would then provide a link to your NFT portfolio. One can surely go for this platform for easy accessibility and consistency.

Proton Mint Charging no gas fees, this platform even offers you to mint in your first NFT, without any charges. Proton Mint has a great user interface, that is very clean and quite easy to use. The website supports various blockchain networks like BSC, Ethereum, and Stellar. It also offers a very huge and assorted marketplace to view digital assets.
Endnotes
Coming to an end in this extensive exploration of the NFT marketplace, we saw various trading platforms and apps, companies, and services, available to ease our approach toward NFT marketplace access. Establishing an NFT marketplace is a next-generation idea, and now is the right time to do so. It is also recommended to measure and compare your desired solutions with all the options available. Additionally, one needs to be aware while investing in this highly new and speculative industry; so, make sure to check and verify before you're sure to invest in all respects.
Still, confused, and want to decide via consulting? Well, Lightrains got your back. We're here to clear your doubts and confusion in regards to NFTs, NFT marketplace development, and substantially more.
References:
Leave a comment
To make a comment, please send an e-mail using the button below. Your e-mail address won't be shared and will be deleted from our records after the comment is published. If you don't want your real name to be credited alongside your comment, please specify the name you would like to use. If you would like your name to link to a specific URL, please share that as well. Thank you.
Comment via email