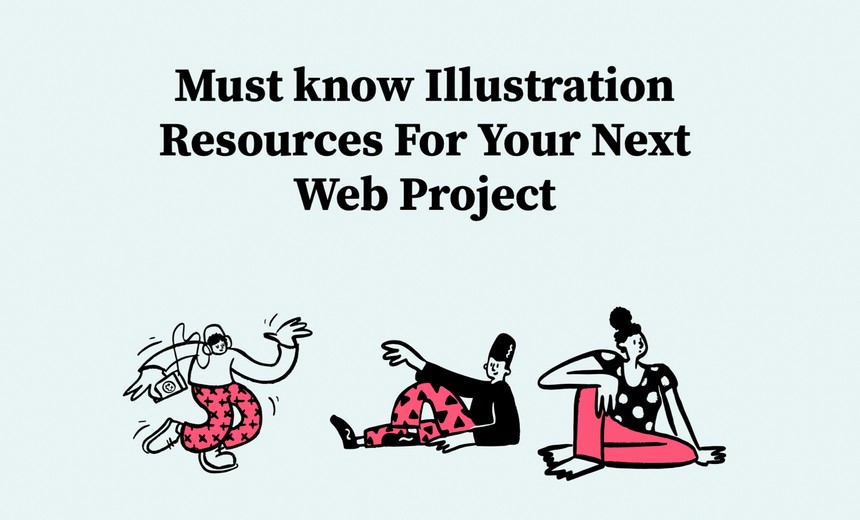 In this short blog, I'll be covering a few handpicked websites where you can find illustrations for your web projects or graphic design projects. You may find some of the websites mentioning in the blog contains paid service and also totally free service. Please share if you find this blog helpful.
I hope that this kind of resource makes it easier for designers to show the value of illustration in their mockups. Maybe you use these images as placeholders, before you're ready to hire an illustrator. Or perhaps this will encourage others to create their own kit and share it with the world.
Okay, Now let's start the list…
1. OPEN DOODLES
Open Doodles is a set of free illustrations that embraces the idea of Open Design. You can copy, edit, remix, share, or redraw these images for any purpose without restriction under copyright or database law (CC0 license.)
The creator or Open Doodles says,
Some of these doodles are direct scans of sketches I drew on my notebook during downtime or meetings. Somehow, doodling while on conference calls help me focus. The rest were first sketched on an iPad using Procreate, vectorized in Illustrator, made into a library with global styles in Sketch, and then exported as SVG and PNG. You can download the individual assets and source files on Dropbox.
Website: opendoodles.com
2. OPEN PEEPS
The library works like building blocks made of vector arms, legs, and emotions. You can mix these elements to create different Peeps.
Combine clothing and hairstyles to add flair
Change emotion with different facial expressions
Set the scene with different poses—including standing and sitting
You can use Open Peeps in product illustration, marketing imagery, comics, product states, user flows, personas, storyboarding, invitations for your quinceañera…or anything else not on this list.
The library is in the public domain under the CC0 License. This means you can copy, modify, distribute, remix, burn, and use the work, even for commercial purposes, without asking permission.
Website: openpeeps.com
3. TALL PEOPLE
Tall People Illustrations is a collection of unique illustrations which is kinda funny and elegant at the same time. All illustrations in Tall People are 100% vector and easily customizable. It also included Figma, Sketch, Ai, SVG, PNG files.
Tall People have a demo version where in you get 1 illustration and a Full version in which you can get all the 18 illustrations.
Pros of Tall people includes
Perfectly fits mobile applications also
Create screens without any effort
Choose from 18 stylish illustrations
Website: the18.design/tallpeople
4. BIGHEADS
BigHeads is another cool library of illustrations which is best suitable for avatars. It is randomly generated characters for your Apps & Games. In BigHeads, you can combine expressions, clothing, hair styles and colors into billions of different unique characters. Embed them on your website, use them in your favorite design software, or import them from the React library!
Bigheads characters can be used by downloading separately or it can be installed using rpm on your project. BigHeads is free for personal and commercial use.
Website: bigheads.io
5. HUMAAANS
Humaans is a mix-&-match illustrations of people with a design library. With Humans, we can create our own remix by changing the hair, costume, colors etc. Humans is Free for commercial or personal use. CC0 Public DomainLicense
That's the end of the list, Please share this information with your designer/developer friends if you find this helpful. Thanks for the read.
Website: humaaans.com
Leave a comment
To make a comment, please send an e-mail using the button below. Your e-mail address won't be shared and will be deleted from our records after the comment is published. If you don't want your real name to be credited alongside your comment, please specify the name you would like to use. If you would like your name to link to a specific URL, please share that as well. Thank you.
Comment via email