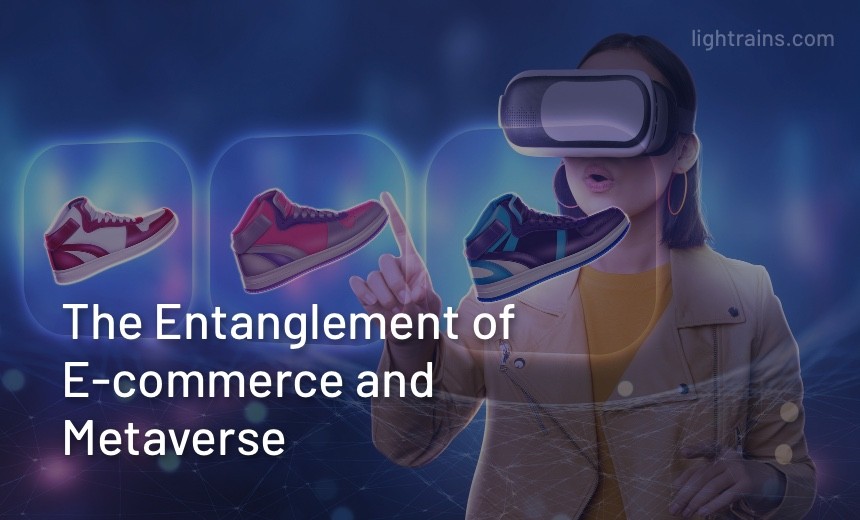 The instant delivery sketch is being the latest trend in e-commerce and digital blending, but there is still something big that is yet about to take place. The future will unroll the metaverse to ease commerce practices prevalent in the existing time. But what would the results yield, depends on understanding the extant definitions and tactics we have today. For this, we'll be moving from the contemporary elements of these two concepts, to the point where they may or, is/are merging.
E-commerce
In general aspects, the buying, selling, and trading of products and services or the transfer of data and funds over the internet, is known as e-commerce (electronic commerce). This exchange takes place over a virtual space, specifically called 'an e-commerce website', that acts as a digital storefront over the internet. There are several business models that come under this framework, including Business to Consumers (B2C), Business to Business (B2B), Consumer to Consumer (C2C), Government to Business (G2B), Government to Consumers (G2C), etc. There are three ways through which e-commerce takes place, viz, mobile commerce, enterprise commerce, and social media commerce. As such it has given direct access to consumers, lowered operating costs, offered global reach, and a lot more. What lies next is to see its next stage of evolution in the contemporary market.
Metaverse
While the definition of the metaverse isn't certain, we can understand it as a digital (virtual) space with an immersive environment, by using technologies such as AR/VR/XR, to interact with one another. In this virtual space, individuals are manifested as 'avatars', which are digital representations of our physical selves. Via metaverse, virtual avatars can socialize with one another, shop, travel, attend concerts, attend events, trade, play games, purchase real estate, and much more. To access this space, one can use AR/VR headsets, smart glasses, haptic gloves, etc.
Fusion of E-commerce with Metaverse
Metaverse facilitates multi-channel interaction in an immersive multi-user experience with digital entities, virtual atmosphere, and real people, throughout the world. A key element of the metaverse is its 'customer experience' or 'user experience', which takes in aspects like stronger engagement and better customer understanding. Many customers tend to test, try and touch products, before their initial purchase. This enhances the in-store experience. As for metaverse incorporation, since it involves the usage of gadgets like AR/VR, customers can try to feel the same in a virtual environment, by sitting in their comfort zone at home et al and testing the product in the virtual space, by using haptic devices.
Secondly, the companies that have a metaverse presence already, can widen their consumer base, apart from getting feedback on any new product launch, so as to understand the longevity of their experimental product. Irrespective of the user's location, the metaverse clears the way for them to trade, buy and sell, products or services while merging the online and offline space.
One milestone that needs to be known is that the metaverse has transformed the three-step 'browse-choose-click to buy' mechanism into the two-step 'browse-experience to buy' mechanism. In other words, the customers can immerse themselves in the metaverse, and walk around stores, view product displays, try and test or experience it, and then decide to make a choice, all of this, while sitting in their comfort spaces.
In one outlook, current e-commerce revolves around bounded product recommendations and discounts. After its coalescence with the metaverse, companies can make possible the hyper-personalization of products with a 'browse and buy' experience. In fact, return rates can also be reduced through this amalgamation, as this would allow consumers to try the product before their final purchase. It will also clinch informed choices while purchasing. As one more case, the better the customer experience, the better would be the 'conversion rate', and hence the greater would be the sales and traffic over the company.
Mathematically,

Metaverse Commerce = [Speed + Ease] (from e-commerce) + [Customization + Involvement] (from physical retail)
Consequences of Integration
In the real world, there is a limited number of products available. With metaverse incorporating e-commerce, personalization and customization of products would be increased. Thus, a personalization experience would be created. According to an analysis, it was examined that for products that are evaluated in a 3D manner, a 40% pay-out is done by the consumers. Because of this product visualization factor, assisted by metaverse, there is a chance for an increase in the company's profit margin. As a brand, you can call your customers to participate actively in your brand activities to build a stronger community, and augment interaction. Apart from this, the main idea of marketing is to find the target audience. Once we get our intended audience, the consumers would enjoy the services in the virtual space, that'll allow brands to understand the needs of their consumers, study their behavior, analyze the amount of merchandise to be produced and ultimately improve customer insights. Lastly, businesses can also examine their product's sustainability in the market, along with the ratio of its reduced interest rates.
The Gravity of Metaverse in E-commerce
Coming on to factors that'll eventually define the influence of metaverse within the e-commerce ecosystem is quite extensive. Beginning with shopping, the process would get more relaxed and ease due to the sensory ambiance in your specified space. You'll be able to touch and feel the product you're willing to try. Since most online shopping is done without assistance, in the metaverse, one can interact with other customers in the virtual space to get suggestions, even from friends, who are miles apart. Meshmonk is a solution for e-commerce brands to create their presence in the Metaverse. Meshmonk Metaverse e-commerce
Metaverse and Business
If the question is why one must implement metaverse to their business, there are a few rational remarks to understand. First, metaverse uses blockchain technology, so all the transactions done are verified and the records once made, cannot be altered, so it reduces any fraudulently susceptible to third-party payment processors. It ensures a secure transaction for payment, etc. This technology also eliminates the need for international offices, as at a single point, worldwide reach is accessible. It also provides a means for realistically engaging with the product, thereby boosting client engagement. In the end, if for nothing, the involvement of the metaverse would help to advertise goods and services and to mark a virtual presence around the globe.
Metaverse and Marketing
As more activities have shifted into an online medium – shopping, education, attending meetings – there is an increased sense of digital dependency. Due to this reason, the metaverse can become the next revolution in interaction, and advertisement. Metaverse can be utilized for showcasing the company's products and services. With the help of AR technology, people can try on clothing items, footwear, and so on. This will in turn increase the customer experience and make them more liable to add the item to their cart. Considering metaverse works on blockchain and cryptocurrency, there is more transparency in the payment process. Another reason for implementing metaverse for marketing could be that, due to immersive experiences, the engagement of consumers and audience enlarges, and consecutively the brand would have more attention and profit. Metaverse is a way to advertise or present your product and services in several ways, whether it be storytelling, wherein individuals can live the tale you narrate or something else. In either case, this will help in building brand identity and awareness. Finally, brands can organize or attend events in this virtual sphere to expand their network, and also promise a level of participation opportunities by the audience.
Metaverse Commerce Model
Besides the 'Physical to Physical' commerce model, wherein commodities are exchanged in the real world, via fiat currency, the new world internet has introduced several other commerce models for trading, buying, and selling of products and services. Another model we've is the 'Digital to Physical' model, wherein eCommerce comes to play. For gaming e-commerce, we implement the 'Virtual to Virtual' model. Further, we have the 'Virtual to Physical' model, which is administered through the metaverse, wherefore virtual information flows in our physical sphere. In the end, there is this 'Physical to Virtual' model, that shares experiences from our real world to the virtual world.
Brands and Digits
A few brands are paving their way to enter this e-commerce space of metaverse. One example is Estée Lauder's launch of 'Maison Too Faced'. This welcomes audiences around the globe to the metaverse to experience a digital world of beauty shopping, filled with hot sellers, brand characters to interact with, and also the option to play games to acquire discounts on your purchase. One can also invite friends and family to this gathering spot.
Games like Fortnite have invited the fans of musical artists, Marshmello, Travis Scott, and Ariana Grande, to attend live concerts of their avatars, in the metaverse. In the same, users were able to attend these concerts, sing along, dance, interact with their idols, and also purchase digital merchandise at the end, everything but virtually as in the real world.
The Italian brand 'Gucci', partnered with Roblox, to create a 'Gucci Garden' in the metaverse. It consisted of a Gucci store, wherein users could try and purchase the virtual items they liked, a museum, and a restaurant. The products in the store were limited, e.g., the 'Queen Bee Dionysus' bag, which was on sale for just one hour for 470 Robux ($5 USD). Similarly, Nike has also partnered with Fortnite to create a digital space, with grounds and outlets where users can try on outfits, named to be 'NIKELAND'.
Conclusion
Metaverse is still very young now, and there are several layers that it needs to unfold. Yet, it is slowly forming and taking shape to allow people and businesses to extend their network. It is for sure that e-commerce with metaverse will open new dimensions. It won't only give an immersive experience for checking out products and services, but would also make experiences more democratic. Accessing things from one's home or comfort area, and breaking boundaries, are some aspects that this integration makes possible. Brands who'll be able to think out of the box and build strategies for this combination would have a more successful presence in both worlds.
References
Leave a comment
To make a comment, please send an e-mail using the button below. Your e-mail address won't be shared and will be deleted from our records after the comment is published. If you don't want your real name to be credited alongside your comment, please specify the name you would like to use. If you would like your name to link to a specific URL, please share that as well. Thank you.
Comment via email