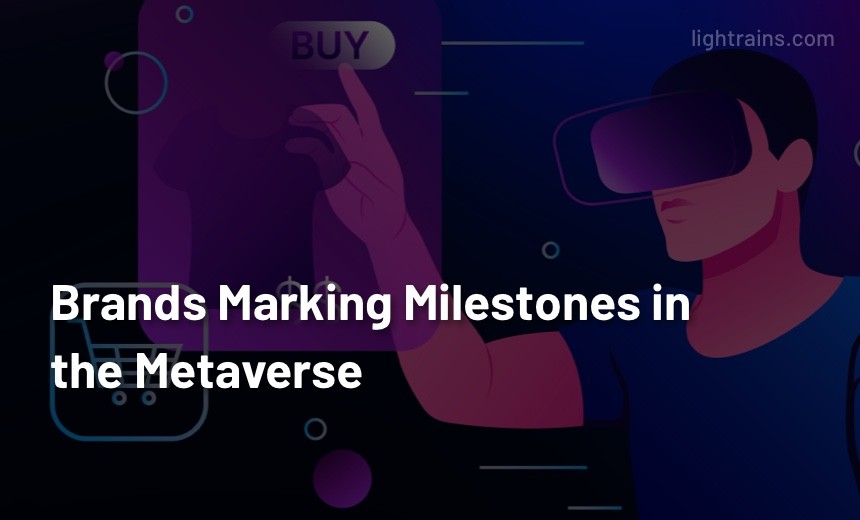 Did you know that in the year 2022, over 120 billion USD, has been invested in the metaverse, just in the first half of the year alone? Not only this, it is estimated that the metaverse would reach a valuation of 1.528 USD by 2029. While the stats may oscillate or vary over time, one thing is palpable, that this domain is about to expand, and invite firm ventures to test and try out their idea, in this virtual space. Meanwhile, several brands have already made their debut in the metaverse, at the same time, interacting well with their consumers, at an early march.
Nike
This well-known athletic apparel has paved its way in the metaverse quite at an advanced pace. The brand has partnered with the video game platform 'Roblox' to create its virtual space in the metaverse – Nikeland. This interactive space offers its visitors or audience to play mini-games, experience a sport-centric lifestyle, socialize, get indulged in promotion, take part in brand experiences, and so on. What more this digital space offers are its wide customization of avatars. One can dress them in Nike gear, presented in the game's outfit collection, and then share the attire for associated players to view in the showroom. This November 2021 establishment has witnessed 7 million visitors, since its launch, according to its parent brand 'Nike'. Apart from selling exclusive digital merchandise, this platform has hosted celebrity welcoming in their space, one of which was the appearance of the professional basketball player, 'LeBron James'.
Another strategy that this brand has conquered is the thin conversion of its visitors into digital brand ambassadors, by letting out their avatars carry the items in the Roblox environment. This in-game stretch also provides a 'yard' to its visitors where they can showcase their collectibles, and embody their preferences. Not too long after the establishment of Nikeland, this sports business acquired another studio specialized in NFT sneakers and avatar accessories, RTFKT. In this syndicate, they created their first sneakers, known as CryptoKicks Dunk Genesis, that can be customized using 'skin vials'.
Gucci
The Italian fashion luxury brand, Gucci, has stepped down in the metaverse, with its pioneer 'Gucci Garden', with 'Roblox'. 'Gucci Garden' is an exclusive and collaborative virtual exhibit that transforms the avatars of the users into neutral mannequins. What was very striking in the project was the absorption of elements from the exhibition, as each visitor passed through random rooms. Due to several permutations of walking through the garden's themed rooms, each visitor would land up with a unique one-of-its-kind creation, while retaining the elements from the spaces they moved through. It has also enabled 'Roblox' players to buy certain digital entities, while they explore the area. Even more, Gucci has also released an exclusive pair of digital sneakers, prior to the debut of their Garden Archetype, called the Gucci 'Virtual 25'.
Another step that this brand has taken to step in the ongoing meta-domain, is the acquiring of virtual land in 'The Sandbox', for creating 'The Vault'. It is an online Gucci store that lets shoppers have a more immersive experience, while they shop. This space would also feature the brand's history through games and NFTs. The next endeavor this label is working on is its '10KTF Gucci Grail', with the treasure hunt trend that'll excite players to collect assets, as they play.
Microsoft
Metaverse has now infiltrated giant tech companies, including 'Microsoft'. The chief idea behind its landing in the digital space was the bridging of the gap between the digital and physical worlds. At its Ignite conference in November 2021, the company announced its metaverse project, Mesh for Microsoft Teams. The company positioned its cloud services to be the framework of the metaverse. By using 'Mesh', users can enable avatars and immersive spaces to dive into virtual collaborative environments like meetings in Team. Another step that this tech giant took was the acquisition of 'Activision Blizzard' for $69 billion, which in turn would permit the company access to 400 million monthly active gamers. Moreover, Microsoft's Xbox celebrated its 20th anniversary in a virtual 3D museum, that let gamers customize their avatars and camera POV for an immersive experience.
Wendy's
This worldwide popular food chain embraced the digital space of the metaverse by opening its first virtual reality restaurant 'The Wendyverse', through a partnership with Meta's 'Horizon World'. In this space, players can meet and greet each other, be it their friends or family. Players can also enjoy shooting hoops on the brand's virtual basketball court. Visitors can order virtual fries in the Wendyverse, and also play mini-games in the Wendyverse Partnership Plaza. While playing, the players get entitled to certain discounts and winning food items, that they can avail of in the real-life Wendy's store, be that a sausage, egg and cheese biscuit, and so forth.
Louis Vuitton
On its 200th anniversary, this luxury brand got its breakthrough in the metaverse by releasing 'Louis: The Game', hoarding a 30-piece NFT collection. The brand's mascot 'Vivienne', would traverse through the virtual world and tour resonant regions in pursuit of collectible NFT candles. As one explores its streets, one can revisit the label's history, along with collecting 200 candles in its journey. With the unfolding of each candle, the story behind the brand's chronicles is unveiled. Each player can collect a total of 30 NFTs, created by several artists, including 'Beeple'.
Hyundai
Not long ago this automotive company released its virtual game 'Hyundai Mobility Adventure', in the meta-space of 'Roblox'. The game has featured the brand's products as well as future mobility solutions. The game isn't just mere entertainment, but it also reflects on the idea of a combination of transportation with the metaverse. In the gaming environment, players can meet and collaborate with one another. They can also customize their avatars and experience the brand's mobility offerings. Hyundai also introduced 'metamobility', that'll invent boundless travel by merging virtual reality with the real world.
Disney
When it comes to entertainment, one can't miss talking about 'Disney', its storyline, characters, and vibrant animations. The company has recently created a profile role to build its storytelling future in a Disney metaverse. Lately, this company has filed a patent for a 'virtual-world simulator', to claim any copy of its theme parks in the 3D domain, by any other corporation, or group of individuals. In their proposed concept, users can travel in a highly immersive 3D space, individually, without the need of using any AR device. One instance of their inclination towards the metaverse is their 'MagicBand+' wrist device that allows its audience to interact and experience their favorite Disney moments.
Coca-Cola
This famous beverage brand partnered with 'Tafi' to design virtual wear for its NFT collectibles in the metaverse for celebrating 'International Friendship Day'. Coca-Cola auctioned an NFT loot box, containing digital attire, on the market platform 'Open Sea', which can also be carried in 'Decentraland'. Their 'Coca-Cola Friendship Box', consisted of several branded assets including a 'Coca-Cola' wearable bubble jacket, a sound visualizer, and a friendship card enthused by the 1940s 'Coca-Cola' trading cards. The bidding amount for this collection was over 575,000 USD, along with the winner winning a real-life 'Coca-Cola' fridge. After this venture, the label launched its signature drink into the virtual space, with the title of 'Coca-Cola Zero Sugar Byte'. Not later, they allied with 'Fortnite' to build a space in the 'Fortnite Creative', known as 'Pixel Point'. Herein, the users can participate in the games present and taste several virtual flavors.
Ferrari
Another automotive car-maker business partnered with 'Fortnite' to make its breakthrough in the metaverse. Ferrari released its '296 GTB' in the virtual world, while letting 'Fortnite' users have a trial of this novel model, yet to be released in the physical world. Players can take out the motor for a drive on a battle royale.
Ralph Lauren
This renowned fashion brand collaborated with 'Zepeto', an avatar-modeling social network, to launch NFT wearables. In its thematic virtual world, the apparel label is forging an interactive shopping experience, with several events taking place simultaneously. Guests can also walk through and traverse landmarks that exist in physical life. Not stopping with a shopping tour, 'Ralph Lauren' has also made available a quest that players can take up, after the completion of which, they get a chance to attend a performance by 'Tomorrow X Together', a K-Pop band. Through their personalized avatars, idols get to interact with their audience.
Dolce & Gabbana
In the March of 2022, the first-ever 'Metaverse Fashion Week', hosted by 'Decentraland', took place. The clothing brand 'Dolce & Gabbana' participated in the event wherein they showcased over 20 NFT wearables. In the same month, these wearables were put up for public viewing in the brand's virtual pop-up store. The label has also launched its 'DG Family', through the metaverse marketplace, which is an NFT-based community offering exclusive benefits to its members through collection drops and events.
Conclusion
It's getting evident that the metaverse is contriving giant businesses to invest and innovate. As of now, this domain is still very young, so it also offers experimentation, without welcoming massive losses. With the correct strategy, businesses can bloom very well though in this digital space. A quick tactic with which one can measure their breakthrough could be:
Knowing your business
Knowing your target audience
Investing in uniqueness
Watching out competitors
Understanding use cases and applications
Maintaining balance
Letting customers try products, making trial products available, creating collectibles, early preview of upcoming dropouts, etc, could be certain marketing techniques that can be implemented to invite customers, to expand one's presence in the metaverse. While not only is the above plan-of-action necessary, being consistent and patient while discovering trends in the metaverse is important to enhance business exposure.
References
Leave a comment
To make a comment, please send an e-mail using the button below. Your e-mail address won't be shared and will be deleted from our records after the comment is published. If you don't want your real name to be credited alongside your comment, please specify the name you would like to use. If you would like your name to link to a specific URL, please share that as well. Thank you.
Comment via email