While the term 'Metaverse' is becoming increasingly popular in the contemporary and digital sphere, it gets essential for novices to understand what the term stands for, and why the phrase is sought-after now and then. Substantially speaking, 'Metaverse' refers to the smooth and continuous integration (unification or convergence) of our physical lives with the digital one; all leading to the creation of a virtual community wherein individuals can relax, play, work, attend concerts, travel, explore, socialize and much more. Numerous virtual worlds come together, by the addition of a three-dimensional and immersive layer to the custom web, to enhance social interactions digitally.
Web 2.0 vs Web 3.0 [Metaverse Outlook]
The comparison between the present Metaverse i.e., Web 2.0, and the emerging Metaverse i.e., Web 3.0, is essential to be learned to understand their distinctive approaches. In terms of platform characteristics, the first parameter we'll be talking about is organizational structure, which is centrally owned in Web 2.0, while DAO governs Web 3.0. The same goes for a data structure that is centralized in the former, while decentralized in the latter. In respect to platform format, both the entities have the same set of extensions including PC, VR, and AR hardware, mobile, application, inter alia. Although the former has a traditional payment infrastructure, Web 3.0 permits payment in the form of crypto wallets.
In the aspect of user interaction, digital assets ownership is leased within the same platform wherein it is purchased, in regards to Web 2.0. In Web 3.0, the same is owned through NFTs. The digital assets portability is locked within the platform in Web 2.0, while the latter entitles the same as transferable. In regards to identity, Web 2.0 offers an in-platform avatar, whereas Web 3.0 facilitates Self-sovereign and interoperable identity and Anonymous private-key-based identities.
Commercially, the content revenue, concerning Web 2.0, is presented 70% to the developer, while the rest 30% is earned by the platform on every game purchase. In Web 3.0, a couple of ways the content measures revenue could be: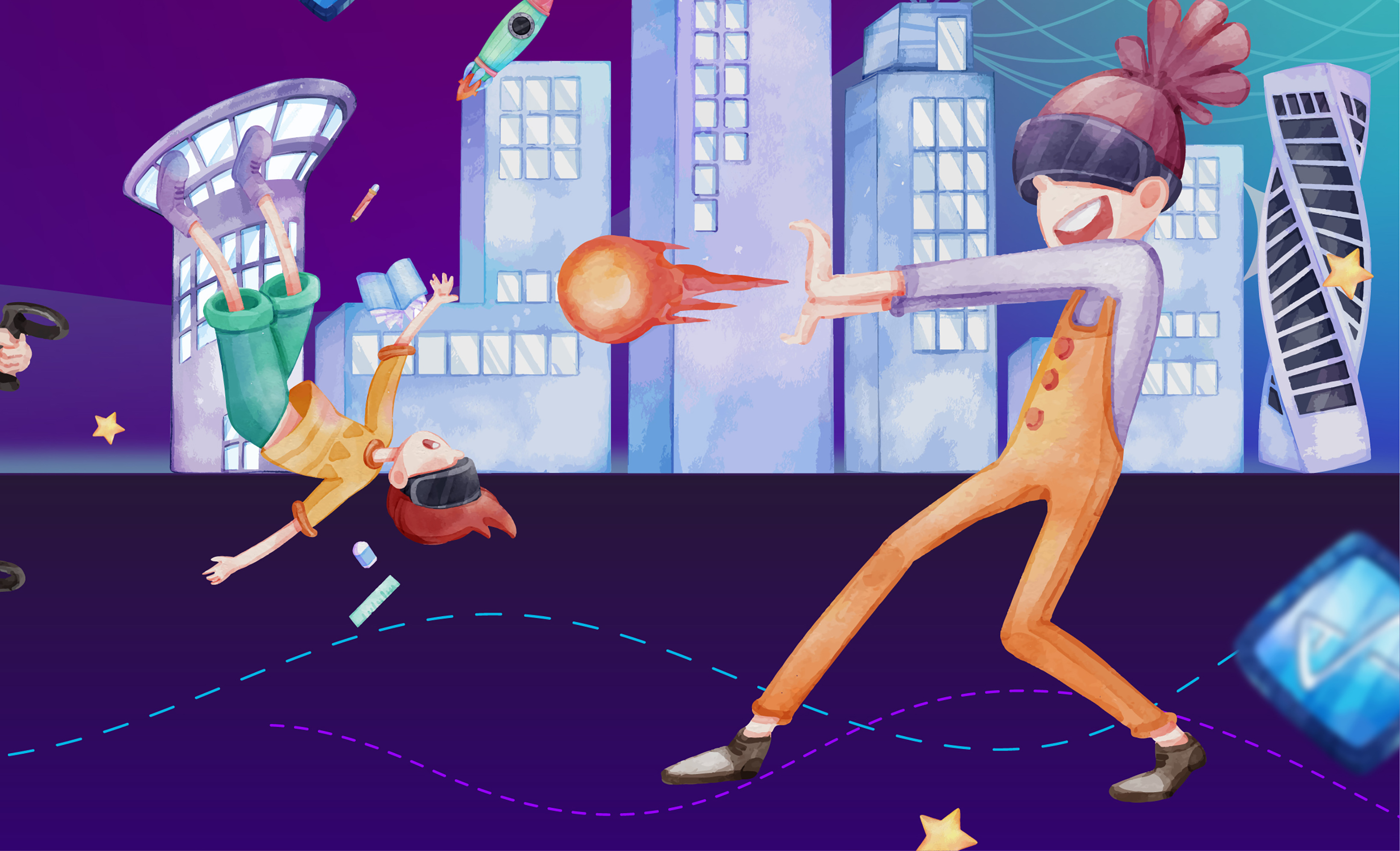 Developers directly earn revenues from sales
Gamers through gameplay
Users via participation in platform governance
Royalties on secondary trades of NFTs
Sell items directly in the marketplace
A few examples of games and application in Web 2.0 includes Roblox, Fortnite, etc., and Web 3.0 includes, The Sandbox, Crptovoxels et al.
Motive of Metaverse
Metaverse had its conceptualization, a long time ago, and since then there are distinctive applications like 'Second Life' and 'Minecraft' present. Owing to the development of AR and VR technologies, user experience in Metaverse has improved to a more advanced one. Along with a linear progression, a slight inflection (or intonation) is observed in the growth of Metaverse, wherein several enterprises announce their upcoming presence in the virtual world.
The first rationale when talking about Metaverse could be monetization, in which NFTs and blockchain-enabled currencies have revamped monetization, in a virtual space. One can transact, trade, and own digital items by the use of tokens. Secondly, token-holders can also vote on decisions taking place over the platform. In the economical aspect, if we merge economics and interoperability, discrete economic opportunities can be unfolded, whereof digital services would be free or distributed in multiple platforms or brands. Another pertinent point is the social frame of reference. This is done when people build communities, share values, express themselves, engage and communicate in the virtual sphere, in a more credible manner.
Metanomics Slant
When you alloy Metaverse with economics – you get Metanomics, which considers the market portion of the virtual world. You can open a virtual private club, or can open an art gallery, or can organize a music concert, can see tickets, purchase outfits for your avatar etcetera. Fundamentally, you are performing economic activities in the Metaverse.
Evolution in Metaverse
Let's visit how virtual space has expanded in the meta-universe, in the past two decades.
2003 Release of 'Second Life'
2008 Playstation 3 released Playstation Home
2014 Twitch is acquired by Amazon
2014 Microsoft acquires 'Minecraft;
2021 Facebook renames itself as 'Meta'
2022 Microsoft announces plans to acquire 'Activision Blizzard'
Ownership Economy
When we compare the difference between the conventional ownership economy, with the current one, it is seen that the contemporary ownership economy is driven by Web 3.0. In the Metaverse, you can not only own the land, on which the house is built but also, you can personalize your virtual home. One can even purchase virtual real estate. One such instance of it is, Decentraland, which are selling virtual plots, which can be further developed. A single package of land was exchanged for $913000, in Decentraland, wherein the developed Every realm, turned out the entire land package into an entire shopping district, known as Metajuku.
DeFi and DAO
By the dint of DeFi, collateralized lending primitives, and composability of blockchain token-based digital assets, virtual real estate markets are also seeing services similar to the physical world, like, credit, rental agreements, etc. As such, the upcoming financial world can probably leverage clothing as collateral to underwrite property mortgages. All of the financial activities could be done by a body known as 'Decentralized Autonomous Organization' or DAO, that'll primarily be a self-organizing, mission-based community of individuals. DAO might seed their original balance sheet into a multi-signature wallet to create mortgages. To enhance commercialization, an additional layer of tokenomics to incentive a certain individual or group could be created.
The Working World
The factor influencing the participation of individuals in the meta-economy is the supply and demand dynamics. By the virtue of the same, there would be an upsurge in the development of new skills and it would indeed generate new opportunities to produce money. Another consideration transforming the opportunities for creator economy could be the development and building of products that are required in the virtual space. One sector of the Metaverse is of the "gig workers", who earn the income by providing services.
A case of RTFKT: Recently, Nike has acquired a remarkable virtual shoe designer, namely, RTFKT. As a consequence of the same, a linkage is getting established between physical and virtual merchandise. Further notable entities getting structured in the ecosystem is avatars, spaces, other digital products, and wearables. Aspects like marketing and advertising are some of the huge segments of Metanomics, that have the potential to emerge, due to the availability of a massive audience.
Companies and Countries
An additional dimension to looking at the Metaverse is the business-to-business aid it can provide. Instead of going through a physical brochure, users can examine the parts or products, in a virtual space; significantly reducing the cost, and testing the product better. By contrast, developing a virtual clone of an industry in the Metaverse, and acknowledging how the systems would interact with each other, could be interesting. Secondly, Metaverse has the potential to unlock ingress to markets for consumers, from any corner of the world; especially from the leading economies. Due to this, workers can join an organization located in a different country, without having to emigrate there. Training could also be accessed at low cost, and more effectively. From the mindset of a corporate, a major retailer could establish a global virtual hub for its worldwide customers, instead of having mini-stores in every city.
Scope in Specific Sectors
Let's now dive into five major sectors, in which we can fortify Metaverse.
Technology
By environment rendering
Advanced discover mechanism
Cross-virtual world interaction
Commercial Infrastructure
Formation of cross-border and cross-Metaverse foreign exchange
Web 2.0 and Web 3.0 virtual world integrations
Development of services to support DAO
Privacy and Identity
Preservation of one's capability to have numerous avatars
Increase of NFT token-gated spaces
Workforce of the future
Reorganization of event makers that specialize in Metaverse practices
Training designers and developers with a specialization in 3D modeling of Metaverse entities
Regulation, tax, accounting, and social infrastructure
Evolution of community governance
Expert navigation of regulatory, tax, and accounting conduct of mainly Web 2.0 virtual worlds with Web 3.0 digital assets
A Metaverse Strategy
A lot many businesses are already existing in the Metaverse; yet one can always begin with someone new, innovative, and fresh. Let's dive and see a blueprint of the tactics one can adopt to ease the Metaverse experience.
Learn: For different individuals, the definition and understanding of Metaverse are different. One can look into the same from various angles and learn about it.
Assess: One can evaluate and measure how Metaverse generates opportunities relevant to their business.
Create: Trial, test, fail, and then learn. Make sure that you keep on evolving while you are still present in the virtual space. Try to engage with customers in a creative space via digital assets, experiences, etc.
Connect: Connect and bond with individuals to set up a Metaverse ecosystem. You can look into the required partnership with a high degree of collaboration at an optimum rate of investment. You can also make friends with next-generation communities and see light in alternative talents.
Establish: Work hard and be consistent; try to establish your niche business in the meta-universe and build up your position in the virtual space. Note that you involve in individuals that help your business grow and who are supportive.
The Gravity of Metaverse in E-commerce
Most online shopping is done without assistance, in the metaverse, one can interact with other customers in the virtual space to get suggestions, even from friends, who are miles apart. Meshmonk is a solution for e-commerce brands to create their presence in the Metaverse. Meshmonk Metaverse e-commerce
Ending Inference
Metaverse is in its first phase of evolution, so there is quite a lot of scope for new entrants to establish a business in the dynamic space. With new developers, the meta-universe is sure to unfold new dimensions, new aspects, that can aid other consumers or users get the best. Nevertheless, with diligence, planning, and safety, one can easily make good utilization of the Metaverse.
References: